The crew at Supergiant Games have shared a twelve-hour animated video of a holiday yule log themed after its newest hit release, Hades. After spending several years in various states of early access, the roguelike based on Greek mythology has released into a finely polished state that has enraptured players and critics alike. The game has been hailed as one of the best games of 2020 almost everywhere, topping the lists at outlets like The Washington Post and IGN. Screen Rant reviewer Scott Baird gave the game a Must-Play rating, calling it an "exhilarating experience" that's "truly special."
While there's a lot to discover in Hades, there isn't anything in the Greek underworld that's holiday-themed. However, that lack of thematic cohesion hasn't stopped game developers in the past from ringing in the end of any given year. In-game holiday events have become a tradition across the industry, with winter-themed festivals offering exclusive cosmetic items and a reason to log on popping up in many of the top games with multiplayer elements. Single-player games will often be a bit more subtle about the changes, which can include townsfolk in an open world putting up decorations or a short in-game event timed to December.
Related: History of the Roguelike, from Rogue to Hades
The Supergiant Games team did not put a holiday update into Hades itself, but it does offer fans a way to celebrate the season with their new yule log video and an accompanying blog post. The video features new artwork in the style of the game, but it's simply a mere loop of a roaring fire, so don't expect any surprises four hours into the twelve-hour video. Supergiant's blog post also features a shot of characters decorating a tree around the fireplace that would make a fine Christmas card to send up to Mt. Olympus.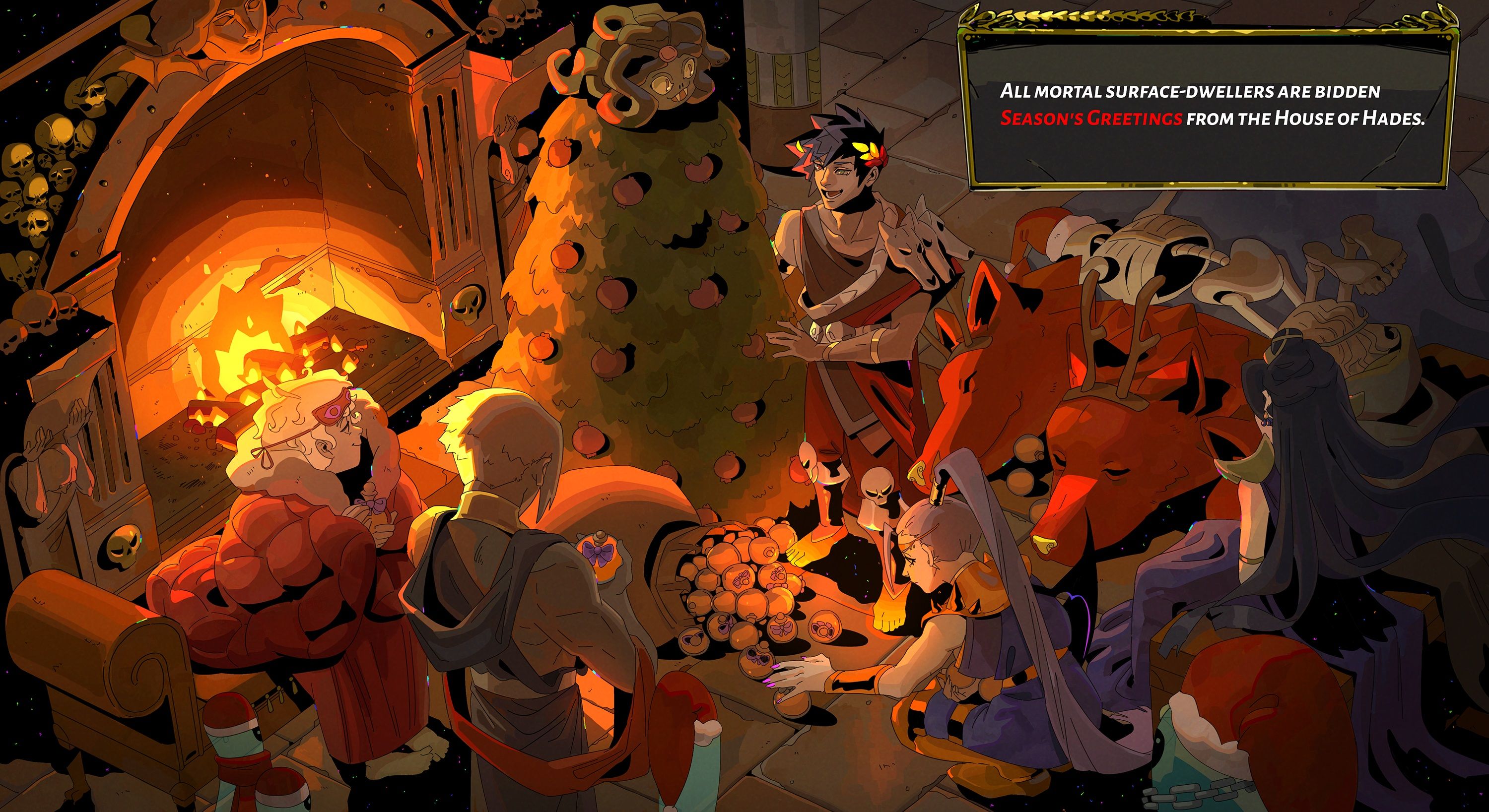 In the blog post, the employees of Supergiant Games thank their fans for the immense success of Hades, saying that it's both their fastest-selling and most acclaimed game to date. This all comes without a release on Xbox or PlayStation consoles, which could mean that the team is waiting until they can launch across both the old and current generation of those devices. However, the game is available on Switch, and owners of that version that also play on PC can take advantage of the game's built-in cross-save support. Once players can escape their own personal Hades and emerge into a more healthy world, this will make playing the game on the go a much more efficient experience.
In a time where many players have a little time off work, a game like Hadescan be a godsend. Fitting in short runs between family Zoom calls is completely doable as long as the game is in windowed mode. For those who have had to cancel their plans and don't have much to replace them, the game can take a more major role in avoiding the holiday blues. There are few games released in 2020 as good as Hadesat whittling the hours away and making it all feel like time well spent.
Next: Why Hades Needs To Be Played Without A Walkthrough
Hades is available now on PC and Nintendo Switch.
Source: Supergiant Games/YouTube